Apollo.io is partnering with LeadSift to make intent data accessible for all
Apollo.io, the integrated B2B sales intelligence and engagement platform, is partnering with the leading intent data provider, LeadSift (a Foundry company), to integrate its buying intent data into Apollo's platform. All Apollo plans, including the free plan, will now include intent data with the option to choose among 1,600 intent topics at no additional cost helping sellers convert more in-market buyers. Buying intent data takes the guesswork out of prospecting. Prospects showing buying intent have a higher chance of converting since they have engaged in online activity that correlates to purchasing activity toward certain products and services. With buying intent, sellers can target prospects with precision. They can see who is in the market for a specific product or service, which empowers them to reach out with the right message at the right time. This strategic partnership between Apollo and LeadSift makes intent data accessible to all. Powered by LeadSift's intent data, Apollo now offers accurate and quality buying intent data across thousands of categories right in its prospecting tools, making it the most seamless experience for sales professionals.
Three key differentiators with Buying Intent from Apollo powered by LeadSift are:
Multi-source intent with accuracy guaranteed. LeadSift (a Foundry company) merges signals from the public web, social networks, events, job postings, technology installs, and more. Each signal is crawled from public data with no guesswork involved.
Easily filter by Buying Intent when prospecting. Buying Intent is seamlessly built into Apollo Search and Chrome Extension so sales professionals can save time and prospect faster.
Comprehensive buyer intelligence and effective engagement, all-in-one. Beyond intent data, sales professionals can easily access comprehensive lead intelligence and effectively engage interested buyers all in one platform.
Our mission is to make world-class go-to-market solutions simple and accessible for all. Being the first data provider to offer a fully free version of an intent data solution brings us one step closer to our mission, After evaluating multiple intent data providers, we partnered with LeadSift (a Foundry company) for their accurate and quality intent data."

– Krishan Patel, VP of Product Apollo.io
The buyer's journey is complex and never happens in one place. For sales outreach to make an impact, reaching the right buyer, with the right message, at the right time is essential. This is where intent data can help create efficiency in sales and prospecting. We are excited to partner with Apollo.io, allowing more sales professionals to find and engage the most relevant accounts that are actively in-market."

– Tukan Das, Co-Founder of LeadSift.
Apollo.io helps over one million professionals across 160,000 companies automate their sales processes and grow revenue. Apollo has consistently been ranked on G2 as the leading sales intelligence and sales engagement platform, beating over 200 companies across the reviewer's website.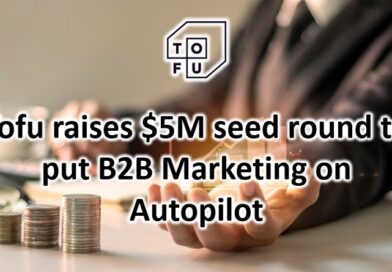 Tofu, a generative AI platform for creating hyper-personalized, omnichannel marketing campaigns at scale, today announced it has raised $5M in